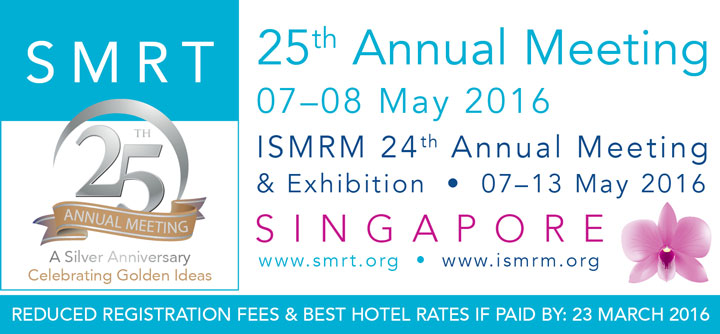 SMRT Travel Scholarship
The SMRT Travel Scholarship Program assists radiographers and technologists in attending the SMRT Annual Meeting. Scholarships of up to $1,000 will be provided by the SMRT as well as through philanthropic donations to the ISMRM Research and Education Fund.
Criteria for Application:
Scholarships will be given to radiographers and technologists who have a demonstrable need for financial support to attend the Annual Meeting of the SMRT, and who also reside outside the countries of the United States, Canada, Australia, New Zealand, and the United Kingdom.
All Applicants must provide a supporting letter from a Department Head or Supervisor attesting to the need for travel assistance and the potential benefit of attending the meeting.
Preference will be given to:
Applicants who are dues paying members of the SMRT
Applicants who have submitted scientific abstracts for presentation at the meeting
Technologists just beginning their careers (in practice less than 3 years)
Eligible Expenses Covered by the Award:
Economy coach fare air travel to and from the meeting location, up to four nights lodging at a conference hotel, and general meeting registration not to exceed the award of up to $1,000.
Not Covered: Membership dues, fees for courses that have additional charges, meals, ground transportation, baggage fees or travel itinerary change fees.
Award Allocation:
Applicants will be notified of the results of the award process two months prior to the meeting, leaving time for the purchase of an economy coach round trip airplane ticket. Failure of the successful awardees to register for the meeting prior to the registration deadline will result in forfeiture of the scholarship.
Scholarship Application
Sorry, the deadline to apply for the 2016 meeting has passed.
For questions, contact info@ismrm.org.