SMRT/FDA Collaboration Produces Award Winning Poster
In early 2016 Jana Delfino from the FDA (Federal Drug Administration) contacted Vera Kimbrell and Maureen Hood from the SRMT Safety Committee with an idea to collaborate on an educational poster aimed at promoting awareness of the potential for RF burns. Jana put together a team from the FDA which included Terry Woods and Leonardo Angelone, known as the MRI Safety Public Posters Group*. Later more people were brought in from both groups and the poster began to take shape. It's been translated into 7 languages and used by technologists and researchers throughout the world.
Monday, Aug. 7th 2017, Maureen and Vera traveled to the FDA office in Silver Springs, MD to join the FDA team as they accepted the FDA Plain Language award for "Engaging with a professional society and co-developing multi-language educational posters for MR technologists aimed at improving scanning safety for patients."
The SMRT is proud of this effort and the posters we have continued to create. Please visit our website to view and download the RF Burn poster, as well as several other safety posters, created both in collaboration with the FDA and within the SMRT Safety Committee itself.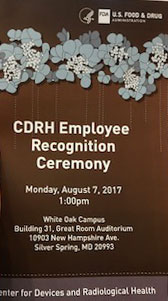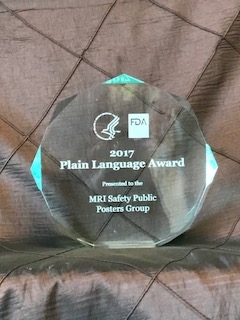 **Members of the MR Safety Public Posters Group:
Leonardo Angelone
Adam Day
Jana Delfino
Maureen Hood
Maria Ida Iacono
Vera Kimbrell
Alexander Ruiz
Ting Song
Terry Woods